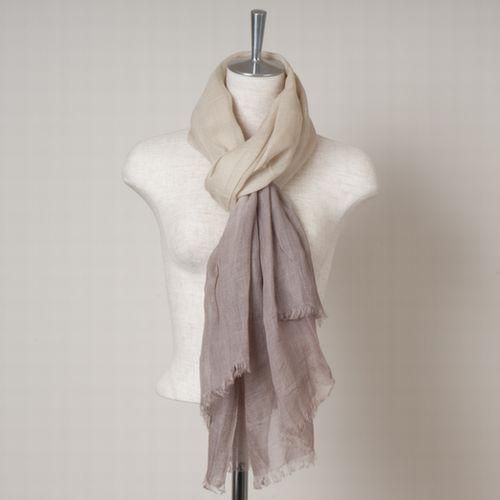 Mist Linen
-Brown Ombrer-
24,000円(税込26,400円)


只今フラッシュセール中!カートに入れていただくと30%offにてお求めいただけます。
¥24,000-⇒¥16,800-(税抜)

詳細(Details)
両サイドのみにオンブレ染を施したストール。上品なナチュラルモダンな雰囲気に。
Stole with Ombre dyeing only on both sides. In an elegant natural modern atmosphere.

素 材 :リネン 80% シルク20%
サ イ ズ :75×200cm
カ ラ ー :無染色+ブラウン(オンブレ染)
生 産 国:日本
Material:80% Linen 20% Silk
Size   : 75×200cm
Color  : Natural+Brown(Ombrer)
Country of origin: Japan
Type:SilkLinen/Brown(茶)/Beige(肌)/Pattern(柄)

※桐箱包装はオプションより選択ください。
別途1,000円(税抜)にてご用意しております。
※ Original box wrapping is an optional .Available separately for 1,000yen(excluding tax).
| | | |
| --- | --- | --- |
| Number | : | MSR420-OR013 |
| Quantity | : | |
| 桐箱包装(Gift Box) | : | |