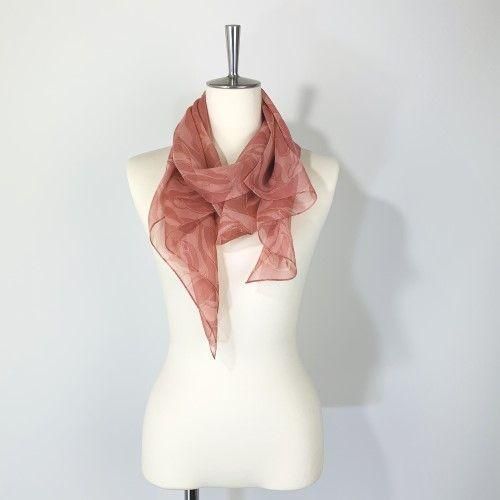 Chiffon Stole
Flower Print
Orchid Pink×Fuchsia Pink

11,000円


詳細(Details)

四季を通じてシルクの滑らかな肌触りが楽しめるシフォンのストール。カサブランカをモチーフにしたデザインに加えたのはアールヌーボーのエッセンス。手捺染ならではの温かみある印象が漂うのも魅力。
A chiffon stole that allows you to enjoy the smooth feel of natural silk throughout the four seasons. The essence of Art Nouveau was added to the design with the Casablanca motif. It is also attractive to have a warm impression unique to hand printing.

素 材 :シルク100%
サイズ :40×150cm
カラー :ピンク(一斤染×薄紅梅)
生 産 国:日本
Material:100% Silk 
Size   : 40×150cm
Color  :Pale Orchid Pink×Fuchsia Pink
Country of origin: Japan
Type:PureSilk/Pink(桃)

※ギフト包装はオプションより選択ください。
別途200円(税抜)にてご用意しております。
※ Original gift wrapping is an optional .Available separately for
200yen(excluding tax). 
| | | |
| --- | --- | --- |
| Number | : | SCF200-PTC03 |
| ギフト包装(Gift Wrapping) | : | |
SOLD OUT